What is happening now that the half-cent sales tax has passed?
January 2023 Capital Projects and New School Construction Update
The Sales Surtax Citizens' Oversight Committee met on January 10, 2023. Joel Linder, Program Director with Jacobs/Titan Technologies, provided a comprehensive update on the projects currently funded by the sales tax. The committee discussed the potential of conducting site visits to see project progress in accordance with Florida Sunshine Law. Deputy Superintendent, Steve Horton, will present the 2023 Committee to the School Board on Monday, January 23, 2023.
November 2022 Capital Projects and New School Construction Update
Deputy Superintendent, Steve Horton, shared the Capital Projects and New School Construction Update to the School Board on November 11, 2022, which highlights and explains the District's Capital project timeline (past, current, future projects).
February 2022 UPDATE
The School District passed Resolution 21-08 at its December 13, 2021 Board Meeting which authorized the issuance of Certificates of Participation (COPs) Series 2022A, in an amount not to exceed $130,000,000, the proceeds of which will be used to finance the planning, constructing and equipping of numerous projects contained on School Sales Tax Project Lists:
Classroom additions for Crestview High School, Laurel Hill School, Elliott Point Elementary School, Silver Sands School; and
New Cafetoriums for Plew Elementary School, Ruckel Middle School, Bob Sikes Elementary School, Edwins Elementary School, Shalimar Elementary School, and Wright Elementary School; and
Renovation and expansion of dining areas for Pryor Middle School, Baker School, and Crestview High School; and
New multipurpose buildings for Niceville High School, Crestview High School, Baker School, Choctawhatchee High School, and Fort Walton Beach High School; and
Multipurpose room renovation at Laurel Hill School.
School districts across Florida and the nation use COPs as a way to borrow funds to accelerate construction projects with repayment of the borrowed funds coming from future revenue sources, like Half-Cent Sales Tax revenue. The Citizens' Advisory Committee offered its support for this initiative at the December 13th Board Meeting. The completion timeline for these construction projects is planned for thirty-six (36) months.
The voters of Okaloosa County approved the Half-Cent Sales Tax for Okaloosa Schools on November 3, 2020, for ten years.
The Capital Projects Dashboard contains more detailed information related to these and other projects.
August 2021 UPDATE
Okaloosa County Voters approved the Half-Cent Sales Tax for Okaloosa Schools on November 3, 2020. The half-cent for schools will last for ten years and will fund many needed repairs and projects to improve aging school buildings.
The Citizens' Oversight Committee continues to meet bi-monthly at the School District Central Administrative Complex to receive and review reports related to the School District's Half Cent Capital Outlay Sales Surtax Program. This meeting is open to the press and public and the date and time will be announced on okaloosaschools.com
School Security Projects are being completed in three phases.  Phase one was completed prior to the Sales Surtax.  Phases two and three are being funded through the Half Cent Sales Tax which allows for the work to be completed years ahead of schedule. All projects in phases two and three will be complete by Summer 2022.
Four schools in the district received or are in the process of receiving partial roof replacements. Edge Elementary and Pryor Middle School's Gymnasium are complete.  Mary Esther Elementary's roof project is underway and Crestview High School's roof project will begin at the conclusion of Pryor Middle School's project.  All roofing projects are on track to be completed this Fall.
We are in the process of working with local Architectural and Engineering firms to finalize designs and construction drawings on six new Cafetorium Buildings, two cafeteria expansion projects, five new Multipurpose buildings, and Classroom/ Administration additions and/or renovations at five schools.
Please check the Okaloosa County School District Half Cent Sales Tax Capital Program Dashboard for a snapshot of the program budget, project schedules, and each school's project summary in the menu links above!
Edge Elementary School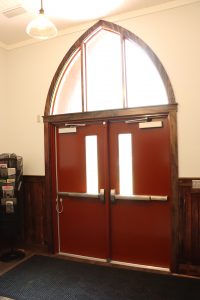 "This beautiful, historic renovation of Edge Elementary's front entrance provides increased building security while honoring the history of a community school that has educated generations of Niceville families."
Dr. Samantha Dawson, Principal
Elliott Point Elementary School

"The development of our front entrance area to a true single point of entry, has been wonderful. It sets the tone to our students, parents, and faculty that safety is the district's number one priority."
Scott Nuss, Principal
Antioch Elementary School
"We are so excited to have our single point of entry project completed. Last spring, we saw the demolition of our front office begin and watched the transformation all summer. We now have a safe place for students, teachers, and families to be greeted upon arrival at Antioch Elementary School. The update has provided new office spaces for our bookkeeper and our School Resource Officer, as well as allowing for a waiting area for our clinic. This waiting area allows our clinic to be deemed a "sick clinic" only and students that need daily medications never have to enter the clinic and be exposed to students that could be contagious. The fencing out front has added an extra piece of mind as you can no longer access the back of the school without gaining permission to enter. Overall, the project gives all stakeholders a sense of safety upon entering the campus of Antioch Elementary School."
Kelli Sanders, Principal
Post Documents & PDF to inform the public on upcoming events.